As a basic rule of thumb you should never cut more than one third of the total of your grass height. If you've been away from your lawn for a while and it's quite long follow the 1/3 rule and 4 days later use a shorter setting to cut. This will help keep your lawn from going into shock. All the parts featured in this article can be found in our huge collection of lawnmower spares.
Safety first: always unplug electric mowers before repairing, and keep mains plug beside you so no one inadvertently reconnects the power supply. Wear safety gloves while working with blades.
For Hover Mowers with a Blade Bolt and Spacers:
Make sure the mower is unplugged.
To remove the blade bolt and blade, hold the fan firmly and with a spanner loosen the blade bolt by turning it anti-clockwise.
For a lower cut, add cutting height spacers and for a higher cut, remove cutting height spacers. These spacers must always be fitted between the blade and the fan, and never between the blade and the bolt.
Place the blade onto the spacers ensuring any pegs are located in the appropriate holes on the blade.
Place the blade bolt through the centre hole in the blade and tighten clockwise, first by hand then with a spanner.
For Hover Mowers with High & Low Settings Only: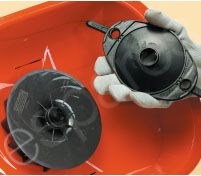 Make sure the lawnmower is unplugged.
Wear heavy duty work gloves and grip the blade mounting firmly.
Twist the mounting to free the blade.
Turn the blade over and reinsert it into the attachment. Check the manual for specific details.
Remember that getting a good cut is also dependent on having a sharp lawnmower blade.
The information provided in the article above is meant as a guide only, and eSpares accepts no liability for any problems experienced whilst attempting any repairs. If in any doubt about fixing your appliance, always contact a qualified engineer.