If you are looking at upgrading your current electric lawn mower to a more powerful petrol mower, then knowing about how it works could give you some valuable knowledge in the long-run. Below we have highlighted some key features and details about petrol lawnmowers which you may find interesting and helpful.
A petrol lawn mower has a small engine, and like most small engines, they require the user to pull a starter cord. Pulling the starter cord will kick-start the motor. Some larger self-propelled models could have a battery and starter motor, these of course make the start-up process that much easier.
The engine works to turn the blades directly and on some models there may even be a separate brake which can help stop the blades. The speed of the blades is adjusted by a throttle, which can be found on the handlebar.
This pulls a cable which opens and closes a valve in the carburettor - this helps you control the amount of fuel which is delivered to the engine thus controlling the motors speed.
To get the best looking lawn, you can't just leave the blade at the same height at the start of the season up to the last cut. The very first cut needs to have the blade raised high so you just 'top' the grass. Over time you can gradually lower the blade to your desired height.
A petrol mower's blade height can be altered differently to that of an electric mower. Adjusting the height of the wheels will determine the overall height that the blade will rest. Changing the height can be done altering the moving levers, see your manual on the specific location.
Grass Cutting & Collection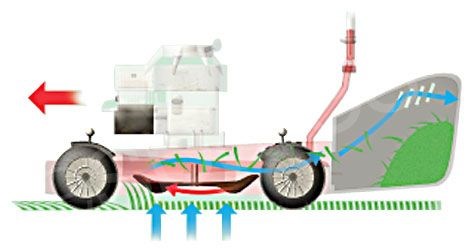 Under the deck, the blade rotates, lifting and cutting the grass as it spins at high speeds. The grass cuttings are then blown through the grass box channel and is then deposited on the lawn or in the grass box where you can then choose to dispose of it as you choose.
So there we have it, a few simple things to know about your new petrol lawnmower. Of course some of this may be different depending on your brand - however the processes should be quite similar.
For more helpful guides and articles don't forget to browse our advice centre, which includes help from replacing your lawn mower's blade to understanding how to best care for your lawn and much more!