A hand mixer is an absolute must for every kitchen. It's an inexpensive and versatile tool which is great for baking and preparing all kinds of delicious food from cakes and cookies to whipped cream toppings and more.
How to Clean Your Hand Mixer
So long as you make sure you get in the habit of cleaning your hand mixer straight after use you'll have no problems keeping it clean. Follow these simple steps for a hassle-free clean up.
Cleaning Hand Mixer Attachments
Fill a bowl full of warm water and add a couple of drop of washing up liquid.
Submerge the attachments whilst still attached to the mixer and run the mixer on a slow speed setting.
As the attachments spin, food and residue will be removed.
You can then wash them up as normal or pop them into the dishwasher.
Cleaning the Mixer Body
Obviously the mixer itself cannot be submerged in water as this will damage the internal components. However, there are still a few tricks to keepng your hand mixer clean.
Use a clean toothbrush or toothpick to clear out crevices or hard to reach spots.
Wipe down the outside with a damp soapy cloth.
Allow the mixer to dry thoroughly before storing it.
Cleaning the Cord
People tend to neglect the cord but it can get grubby after a while.
Using a clean cloth dipped in white vinegar to give the cord a good clean.
Allow to thoroughly dry before storing it.

There are plenty of recipes out there that you and your friends and family will love that your hand mixer can help you out with.
Victoria Sponge Cake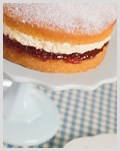 110g butter (must be at room temperature)
110g caster sugar
2 large eggs
110g self-raising flour
To finish
Jam
Icing sugar
Also need
2x 7in (18cm) sponge tins at least 4cm deep, greased and lined with greaseproof paper
In a medium sized bowl whisk the butter and sugar together with your hand mixer until you get a pale, fluffy mixture that comes away from the whisks easily.
In a separate bowl, beat the eggs thoroughly together and then add them to the sugar and butter mixture a little at a time continuing to mix well after each addition.
When the eggs are completely incorporated, slowly sift 1/4 of the flour from a height and fold in. Repeat until all the flour is added. Do not mix too quickly as you'll lose the air in the mixture (which makes the cake fluffy).
Once all the ingredients are added, dunk a spoon in the mixture and tap against side of the bowl. The mixture should slide off easily. If not add 1 or 2 tsps hot water.
Divide mixture evenly between the two tins and place into pre-heated oven at 170 degrees for 25-30 minutes. Try not to have a sneaky peek midway through baking as cool air can cause the cakes to sink.
Once cooked remove cakes from the oven and let them sit for 1 minute. Use a knife to loosen around the edges and tip them out onto cooling racks. Peel off the base paper.
When the cakes have cooled completely sandwiching them together with jam then dust with icing sugar.
You can replace the jam filling with anything from whipped cream, to lemon curd to fudge icing. You can also easily change the flavour of the sponge by adding grated lemon, orange rind or a few drops of vanilla extract. For a coffee flavour, dilute a tbsp of instant coffee with a dessert spoon of hot water. For chocolate flavour remove a level tbsp of flour and replace with level tbsp of cocoa.
Sugar Cookies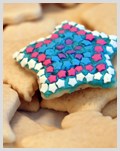 227g unsalted butter
175g confectioners (icing) sugar
1 egg
1 & 1/2 to 3 tsps vanilla extract (depending how vanilla-y you'd like the cookies to be)
1 tsp salt
2 tsps baking powder
400 to 425g all-purpose flour
Mix together butter and icing sugar.
Beat in eggs and vanilla extract with your hand mixer.
Begin to sift in flour, baking powder and salt until well incorporated.
Once all ingredients have been combined, place on a flour dusted surface and roll out.
Cut into desired shapes.
Bake at 200 degrees celsius for 7-8 minutes until tops appear dry, rather than shiny. Do not brown.
Peach & Amaretti Muffins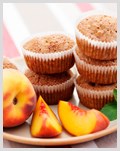 (Makes 10)
250g plain flour
2 tsps baking powder
125g golden caster sugar
Pinch of salt
2 eggs
90ml sunflower oil
250g soya yoghurt
2 tsps almond essence
8 amaretti biscuits rougly broken
1 large peach stoned and cut into pieces
Muffin tin and paper cases
Preheat oven to 200 degrees celsius.
Line muffin tin with paper cases.
Sift the flour and baking powder into a bowl. Leave to one side.
Mix sugar, salt, eggs, oil, soya yoghurt and almond essence together with your hand mixer.
Gradually add the flour mix in.
Once ingredients are combined, fold in the biscuits and peach pieces.
Spoon the mixture into the muffin cases and bake for 25-30 minutes.
Cheese and Chutney Scones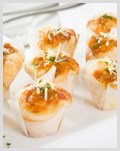 350g self-raising flour
1 tsp bicarbonate of soda
Pinch of salt
85g butter diced
200g extra-mature cheddar grated
284ml buttermilk
6 heaped tsps onion chutney
Baking paper
Combine the flour, bicarbonate of soda and salt.
Add butter and mix until no lumps remain.
Stir in all but a small handful of cheese.
Pour in buttermilk and mix together slowly until thoroughly combined.
Pour the mixture onto a flour dusted surface.
Use your hands to mould into an oval shape about 2.5cm deep.
Cut into 6 scones and place on baking paper, leaving enough room for each to spread.
Use the back of your teaspoon to press a small dip into the middle of each scone. Spoon the chutney into the dip of each scone.
Scatter remaining cheese over scones.
Bake for 10-15 minutes at 200 degrees until risen and golden in colour. Serve with butter and extra chutney.
Storing your handmixer is easy. It's small enough to tuck away out of sight. Keep the attachments with the rest of your cutlery if there's room and keep the mixer somewhere easy to reach where it won't gather dust.
Need to give your mixer some TLC or want some extra attachments?