Hand blenders are a great, inexpensive tool to have in the kitchen. They're ideal for blending, pureeing and even whipping. Keep your blender in top working order with these tips!
Keeping Your Blender Clean
It's important to get into the habit of cleaning your hand blender straight away after use, as this will prevent food from getting stuck onto it, making it hard to clean.
Hand Blender Attachment
Fill a small bowl with hot water and add a drop or two of detergent, before submerging the end of the blender and switching it on until the food comes loose.
Once it's clean, unplug it and set it on a dishtowel or drying rack allowing it to dry completely. Then store it away once it has fully dried.
Hand Blender Body
Obviously the blender itself cannot be submerged in water as this will damage the internal components. To clear out the nooks and crannies, grab a clean toothbrush or toothpick to get at the hard to reach spots. Then wipe down the outside with a damp cloth and allow to dry thoroughly.
Hand Blender Cord
People tend to neglect the cord of their hand blender, but it's important to keep it clean. Use a clean cloth dipped in white vinegar to give the cord a good rub down. Allow it to fully dry and then store it away.

Recipes Using A Hand Blender
There are many easy and delicious recipes you can make using your hand blender. Below we've chosen our favourites for you to try.
Soups
Hand blenders are especially great for making really delicious, homemade soups.
Curried Carrot Soup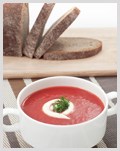 150g unsalted butter
150g onions, chopped
2 garlic cloves, crushed
500g carrots, peeled and chopped into small pieces
1 tsp cumin seeds
1/2 tsp Madras curry powder
300ml chicken stock (can substitute vegetable stock)
1 tbsp chopped coriander
1 bouquet garni
Melt the butter in a saucepan and sweat the onion, garlic and carrots.
Add a pinch of salt and cook for 5-6 minutes.
Toast cumin seeds in a dry frying pan until they become fragrant.
Add the cumin seeds and curry powder to the vegetables and cook for a further 2-3 minutes.
Add the stock, the bouquet garni and 500ml of water.
Bring to a boil then reduce the heat and let simmer for 30 minutes. Remove the bouquet garni.
Use your hand blender to blend the mixture. You can also pass the mixture through a sieve to remove any small bits if you'd like it really smooth.
Add salt and pepper to taste. Serve.
Dressings
Homemade dressings are delicious, easy to prepare and tend to be much healthier than shop bought brands. You can use your blender to make vinaigrette, aioli and more!
Pesto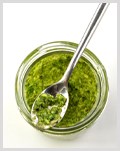 1/2 clove garlic chopped
Sea salt & ground pepper
3 handfuls of fresh basil roughly chopped
Lightly toasted pine nuts
Handful freshly grated parmesan cheese
Olive oil
Combine all ingredients (minus olive oil) in the mixing cup and begin blending. Add olive oil gradually as you go, gaging how much is required to bind the ingredients together. All done!
Shakes and Smoothies
Making shakes and smoothies is so easy with a hand blender.
Keep in mind frozen fruit will taste just as good so stock up on any seasonal fruit and veg and freeze until you're ready to tuck in!
Apple Honey Shake
1 & 1/2 cups of apple juice
1/2 cup chilled orange juice (with bits is better!)
1/4 cup runny honey
2 tsps grated orange rind
Blend and garnish with a slice of apple and some mint. Serve.
Mango Lassi
1/2 chopped mango (can substitute canned mango if easier)
1 cup plain yoghurt
1/4 to 1/2 cup cold water
1/4 to 1/2 tsp ground cardamom
Blend all the ingredients together. If you use fresh mango and find the mixture somewhat stringy pour through a sieve and serve.
Storing your hand blender is not a problem. It's small enough to tuck easily away and out of sight. Just make sure it's located where it won't gather dust!
Need to fix up your blender?