View All Cooker & Hob Cleaning Products Now »

Giving your cooker a good clean can help it look like new and perform much more efficiently. If you're in the process of selling your home or want to give your kitchen a bit of wow-factor, this is the guide for you. Check out our wide range of cooker spares and cleaning supplies to make the most of your cooker.
Safety first, disconnect your cooker from the power supply and make sure it's cool before you get started.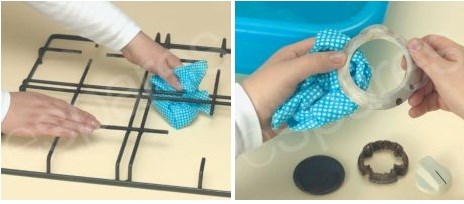 Clean hob spills immediately to minimise damage to the cooker surface. To maintain your cooker, follow these steps at least once each month:
Lift off the pan supports and wash them in warm, soapy water. Use a cloth soaked in warm water with a little cream cleaner to remove caked-on food, and wash the surface of the cooker taking care not to get water into the burners.
If your hob has a stainless steel surface, use a stainless steel cleaner to promote shine without scratches or damage.
Likewise if you have a ceramic hob, we recommend trying a dedicated ceramic hob cleaner.
Wipe down the burner caps, and replace them and the pan supports. Turn the burners on for a short while to evaporate any excess water.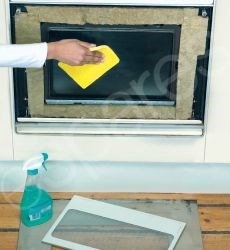 How To Clean The Door Glass:
Your oven's door is made up of several sheets of glass, and cooking fat can get trapped between these sheets. To thoroughly clean your cooker door:
Removing the door from body of the oven and take it apart, following the manufacturer's instructions.
Use warm water with a little detergent to clean each layer of glass.
Burnt-on residues can be removed with a mild abrasive cleaner.
Alternatively, mix a solution of water and bicarbonate of soda to get rid of greasy burnt-on mess.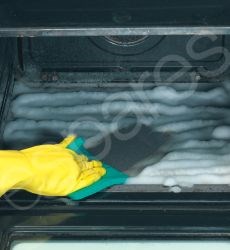 How To Clean The Oven Walls:
For continuous-cleaning ovens, run your oven at a high temperature or set it to "self-clean" mode according to manufacturer instructions. If you don't own a self-cleaning oven:
Wear rubber gloves to protect your skin, and keep the kitchen well-ventilated to disperse fumes.
To start, use a mixture of bicarbonate of soda and water applied with a sponge to clean the inside of your cooker.
Alternatively, spray Indesit Professional Oven Cleaner inside your oven and leave it to work for the time specified in the manufacturer's instructions.
Finally, use a clean sponge to wipe off the foam residue. Repeat if necessary.
How To Clean The Control Panel
Use non-abrasive cleaners or degreasers to keep knobs and control panel clean.
Never spray cleaners directly onto the control panel - always apply them with a cloth.
Care For Your Cooker
If you are in the process of selling your property, assess the cooker for any broken components. The kitchen's appearance can make or break the way a potential buyer feels about your home. Make sure all cooker knobs, burners and oven shelves are in place - these are cost-effective and easy repairs to keep your cooker looking its best.
With a little elbow grease and our huge selection of cooker spares, your appliance will look like new in no time.