View all Cooker & Oven Lamps Now »

For many ovens, it's possible to change the light bulb from inside the oven compartment. If this isn't possible on your cooker or burnt-on grease is making it difficult to remove the glass cover, you may need to remove the back panel of your oven to get at the lamp. Follow these instructions to fix it yourself.
Safety First! Please make sure that you have switched off or disconnected the appliance from the mains before beginning any repair.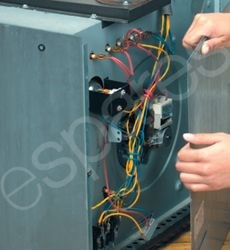 Find a replacement bulb with the correct rating and type for your model - you can buy all makes and models of oven light bulbs in the eSpares cooker spares range.

Before starting, disconnect or isolate the cooker from the mains supply and allow the oven to cool completely.

Carefully slide the oven out from your cabinet and place on the floor, or on your worktop if the cable is not long enough. Make sure to protect your worktop with cardboard first to prevent damage.

Remove the retaining screws and take off the back panel.




Prise or unscrew the light bulb fitting from the back of the oven and remove the blown bulb.





Clean out any grease or dirt from the fitting before inserting a replacement bulb.