Extractor Fan Activated Charcoal Chips - 480g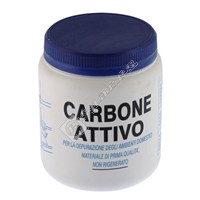 enlarge image
Fits the following models
All Cooker Hoods.
Description
This tub contains 480g of activated charcoal chips to refill the carbon filters in your cooker hood. These chips will help neutralise cooking smells in your kitchen.
The amount of chips required to fill one filter depends on the size of your filter and how densely you fill it. This tub will be enough to fill 1 to 2 filters.
So get these charcoal chips ordered today, to keep those strong kitchen odours at bay once and for all.
Other part numbers for this item: ES486752
Charcoal chips 09 May 2013

By Anonymous - West Yorkshire

being able to find these charcoal chips so easily on you web site saved us the cost of having to buy a new extractor fan. It was easy to refill the unit, a great result all round.

Wonderfull Charcoal Chips 28 February 2013

By Anonymous - Sleaford

one of the best and easiest buy I have ever made. As for using I can not fault it. Even the container helps when transfering chips.

Just what was needed . 30 January 2013

By Anonymous - scotland

Was all over the place looking for these what a difference they have made to my cooker hood working like new. and so easy to change.
Q Can these be used for closed round filters? 1 Answer

I have two round, closed carbon filters in an Electrolux extractor fan. Would I be able to re-fill these, and if so, how? Thanks in advance.

By 11 January 2010

-

A

When you say closed, they do appear closed but can be opened by twisting the inset part to the outer part. This does take some effort so watch out that the pellets don't go all over the place. I have done this with mine (EFC 635X hood - pNC 949610696 00) and it is not easy putting it all back together as stray pellets get in the way. I know this was a year ago but you may still have the hood and it will sve you loads if you can do this

By 07 January 2011

-

Q will one refill fill both filters of a hygena APM2591? Thanks. 1 Answer

By 19 October 2009

-

A

I have no idea how large a hygena APM2591 is but 500g is quite a lot. That's weight not volume, so I would say it was over two jam jars worth in volume.

By - Surrey - 15 November 2009

Q will one pack be enough to fill the filter casing fully ? 1 Answer

By 09 April 2009

-

A

I needed two packs to fill the two filters of my Hotpoint hood i.e. one pack per filter.

By - Pulborough - 17 November 2010