SteelKleen EziWipes Stainless Steel Cleaner & Repellent - Pack of 20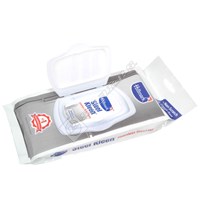 enlarge image
Description
SteelKleen EziWipes Stainless Steel Cleaner & Repellent - Pack of 20
Smudges on your beautiful stainless steel appliances? With SteelKleen EziWipes, fingerprints, smears, waterspots and grime will disappear with an easy wipe - and leaves no scratches! EziWipes leaves stainless steel surfaces clean, bright and streak-free and also leaves an invisible film that repels new marks and dirt.
The box contains 20 individually sealed towelettes - the ideal cleaning accessory in the home!
EziWipes are ideal for use on the following stainless steel appliances:
Ovens and Cooktops
Microwaves
Refrigerators
Dishwashers
Cooker hoods
Splashbacks
Kettles
Coffee Makers
Avoid surfaces that come into direct contact with food, avoid breathing vapour or swallowing and avoid contact with eyes and skin.
More product images
The Best 06 October 2014

By malibu - Dundee

Steelkleen Eziwipes are the best I have used. The do exactly what they say - easily removes fingerprints, smears and grime and protects for longer.

excellent product 16 August 2014

By The Witch - essex

Brilliant stainless steel wipes. So easy to use. Dries instantly with no smears and does prevent marks from appearing again. Wipes are large and very moist so ideal for large areas of stairs less steel. Would cut in half for smaller areas. A bit pricey but, worth every penny. Have bought numerous other products which did not perform anywhere near as good as these. Highly recommend them.

Replacement sent 06 February 2014

By Anonymous - Hertfordshire

I ordered EziWipes, however, the product that I got was Hillmark Steelkleen Stainless Steel Cleaning Wipes. The replacement product is not great and the wipes are actually dry and so not very effective for cleaning.