E-Cloth General Purpose Cloth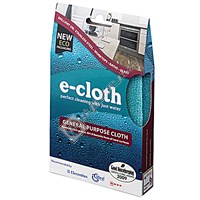 enlarge image
Description
General Purpose Cloth
If you are in need of a new all purpose cleaning cloth - and are concerned about using harsh chemicals to get the job done - eSpares has just what you need! This general purpose cloth from E-Cloth, with its millions of tiny fibres, simply uses water to provide a superior clean by removing the surface layer of dirt, leaving bacteria nowhere to grow.
It features electrostatic properties which means the natural positive charge that builds when the general purpose cloth is dragged across any surface ensures dust is removed with just a wipe. The cloth can be used for all general cleaning on all surfaces, including stainless steel, glass and plastics.
Specification:
Cost and time saving benefits compared to ordinary cleaning - with health and environment benefits
Cleans with water
Chemical free
Absorbs spills, removes dirt, grease and bacteria
Used dry - can be used as an electrostatic duster
Cloth Size: 32cm x 32cm
Nice cloth 19 May 2013

By Satago - Derbyshire

Feels nice and encourages me to use less cleaning fluids,so must be good for the environment.