E-Cloth General Purpose Cloth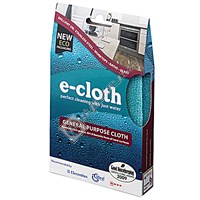 enlarge image
Description
Powerful cleaning cloths - just add water! No chemical cleaning fluids required - just using water will removes even the most stubborn grease from surfaces. Used dry, this cloth attracts dust electrostatically, making it ideal for quick and easy dusting.
The E-Cloth offers perfect cleaning without chemicals, which is a solution for people with allergies, asthma, or multiple chemical sensitivities.
Nice cloth 19 May 2013

By Satago - Derbyshire

Feels nice and encourages me to use less cleaning fluids,so must be good for the environment.