Universal Fridge "Plexiglass" Shelf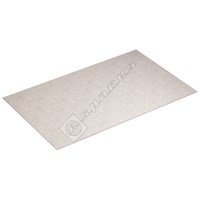 enlarge image
Will this part fit my appliance?
This product is compatible with:
Description
Universal Fridge Plexiglass Shelf
Can't find the right fridge shelf for your model? This could be the spare for you. This is a universal spare is made out of plexiglass - so you can cut it to size yourself. If your current shelf has shattered or cracked, it is best to have it replaced, because it will be unsafe to use and store your items on - and over time it will only become weaker.
To cut this glass, use a saw and then remove the sharp edges by using a file or sandpaper.
The important thing is to take note of its size (shown in specification area below), as this will help determine whether this particular shelf is suitable for your fridge.
Specification:
Size: 550mm x 480mm x 5mm
Cut to size
Compatible spare part suitable for most refrigerators.
PLEASE NOTE: Prior to purchase of this item please check the dimensions to make sure this is the same size or slightly larger than your original shelf as it can be cut down.
Very good service 03 May 2016

By A. D. - Dublin

The part ordered was a standard part but there was a minor issue with the delivery address and it was my own fault. Service addressed this issue right away. Very helpful.

Universal Fridge Plexigass shelf 28 April 2016

By R F Snell

This iten was just right for to repair the fridge, Many thanks

Good value 25 April 2016

By Phil M - Harpenden

I was unable to buy new shelving for an oldish fridge. Good low cost alternative. Not the easiest to cut but good for a workout....