Kidde Carbon Monoxide Alarm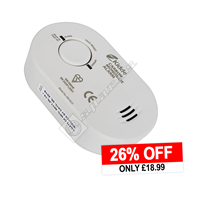 enlarge image
Description
Carbon Monoxide Alarm
This Kidde alarm protects against the dangers of deadly carbon monoxide levels in the home and provides continuous monitoring of CO levels.
Carbon monoxide is a colourless, tasteless and odourless gas and can be produced from poorly maintained or badly fitted domestic heating appliances such as boilers, wall heaters, wood burners, blocked flues or exhaust vents.
The symptoms of CO poinsoning include headaches, sickness, tiredness and muscle pain - all of which can easily be misdiagnosed as flu. It is therefore important to protect your family and home with a carbon monoxide alarm.
Specification:
Provide you and your family with a loud warning signal against the dangers of deadly carbon monoxide levels in your home
Battery Operated (3x AA included), providing protection during power cut
Two LED's: Red - lluminates when in alarm mode, Green - DC power is present, normal operation
Test/Reset Button: Tests CO alarm operation and allows you to immediately silence the alarm
Continuously monitors CO levels detected
Multiple mounting options allowing installation on a wall or as a tabletop unit for added convenience
Tests the unit for proper operation. Resets the Carbon Monoxide alarm
End of Life Alarm Alerts user to replace the alarm after 7-years protection
More product images
Good confidence that this will do the job 12 January 2015

By Old_Robin - Oxford

This seems a quite solidly made small CO2 alarm. Came complete with batteries and a mounting kit. Gave instructions about mounting - distances from boiler etc. Happy with all this. Test button shows that it is LOUD! Not had a leak of CO2 that I know about yet so I am only assuming that this device will work to save my life!

Potential Life Saver 03 December 2014

By drjimbouk - UK

Elected not to fix on the wall. Item is sturdy enough to stand freely on a flat surface. Just insert the batteries. Make sure that there are no pets in the vicinity when you check/reset the alarm. It's a bit LOUD!

Carbon alarm 27 November 2014

By Cookdg - London

Great easy to use alarm installed easily in room with gas fire to make us feel safer