Black & Decker Strimmer Drive Belt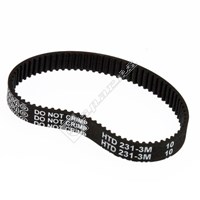 enlarge image
Fits the following models [?]
Click on your brand to see the model numbers this part fits.
Description
A replacement belt to have your trimmer up and running again with minimal fuss and expense.
Genuine spare part for select Black & Decker strimmers only - please check the list of appliances prior to ordering to ensure this is the right part for you.
Other part numbers for this item: 477486-00, ES1137782
Like for like replacement 07 May 2013

By Anonymous - Essex

The belt was exactly the same as the original fitted. When I stripped down my strimmer found I had minor damage/wear to the large plastic drive wheel which had to be cleaned up with a small file. Put the belt on the large wheel first as then easier to fit onto the motor spindle. Found some useful tips reading the other reviews first.

Not a good day in the garden 25 April 2013

By Stonecold - West sussex

Item was very good and took me about 10mins to fit this belttand then Off to the garden strimmer in hand and attack the grass edging well this lasted all of 5mins as the belt was completley shredded so I thought that was money well spent, don't know for definate if it was the belts fault (is there more than one way to put a belt on?)or maybe my strimmer but have had the strimmer for a few years and this was the only thing to ever go wrong with it.

Not quite sure 30 October 2012

By Dan - Harrogate

Strimmer made strange noise that sounded like a warning... so opened it up (screw under label a bit of a challenge). Belt shredded and nearly worn through. espares sent new belt pdq then put it all back together again. worked a treat.. for two strim sessions then warning noise came back again. Opened it up again and belt shredded again, but it's taken the plastic pulley with it this time. Pulley looks to be pressed onto shaft so not sure if it's replaceable. Don't know if original belt shredding damaged the pulley and compromised the new belt or just unlucky this time. still looking for new pulley but suspect new strimmer called for...
Q how do I fit this belt? 3 Answers

Hello, The Belt on my GL701 has broken so I intend to buy this item. I've undone all the screws but I can't separate the two halves, they appear to be stuck where the shaft comes out. Any idea how I can separate it?

By - Otterton - 12 May 2009

A

another screw located under the black stick on label in the middle - run your finger over the cover and you will find a soft spot - just push the screwdriver through

By - manmchester - 06 May 2010

A

all you have to do now is take the sticker off that shows you how to extend the handle, under there you'll find the final screw, good luck

By - whitehaven - 24 March 2010

A

Model GL 270 There is one screw under the paper go-faster stripes on the handle, run your finger along the handle and you will feel the hole. B & D always do this on their tools.

By 27 June 2009

-