Bosch Tumble Dryer Door Handle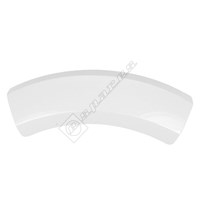 enlarge image
Will this part fit my appliance? [?]
Click on your brand to check if this part fits your appliance
Description
Tumble Dryer Door Handle
If the door handle for your tumble dryer has seen better days, or has even been broken, why not replace it with eSpares today? This genuine spare handle from Bosch could be all you need to get your tumble dryer back to its best. Now you'll be able to enjoy dry, fresh clothes whenever you like!
Genuine spare part suitable for select models of Bosch and Siemens tumble dryers.
Please check the list of suitable models to ensure that this spare part will fit your appliance.
More product images
Works like a charm 31 July 2014

By Richard

Great to just order the handle, pop off the broken one and pop in the new one.

Excellent value 16 July 2014

By Anonymous - Monmouthshire

Great product, delivered quickly, cheapest around and thanks for the extras

Tumble dryer restored 11 July 2014

By Tim Stats C

Was about to try fixing door handle with super-glue when I thought it might be worth trying searching for replacement parts on internet. Quickly found espares and within few minutes had found and purchased exactly what I needed. Took 5 minutes to fix - and now tumble dryer is as good as new - and I earned major brownie points with my wife!
Q Has anybody else noticed how fragile this part is? This will be the second time I have had to change the same part. 10 Answers

The amount of force required to pull the door open seems to be more than you should expect to be handled by three quite small plastic lugs. Is there an upgraded handle with stronger fixings?

By - Bracknell - 22 October 2011

A

This is our seventh time of changing this door handle, not brute strength required to snap them off (thankfully easily available parts from Espares). Poor design, so why oh why have you not listened to all these concerns Bosch and done something about it? It requires four screw sections not three for stability.

By - SW Wales - 08 October 2013

A

This is replacement handle number 3 for me too. Same problem as everyone else. Tumble drier is fantastic apart from the poor handle design.

By - South East - 27 August 2013

A

This will be number 3 a very bad design from a very good company, steel inserts should be moulded into the handle so it strengthens the screw boss, hope bosch read this

By - isle of man - 25 July 2013

A

Yes this is the second time my handle has broken. This time I bough 2 handles in anticipation, as I know it will happen again. On both occasions I have found the handle pretty tricky to replace. If the plastic pillar that the screw is screwed into snaps off at the base it is easy to grip it with a pair of pliers and remove to screws to reuse. But on both occasions some of the plastic pillars have snapped off halfway up the screw and impossible to get hold of with pliers. I have used a very thin Stanley knife to dig into the plastic still on the screw to jam it, whilst unscrewing. Not easy I can tell you. I bet Bosch engineers have a special little tool to get over this problem,. Its bad design for sure and Bosch should sort it!!!

By - Lymington - 12 July 2013

A

Shockingly poor design. This is the second replacement in 2 years and I have been very careful to pull the handle from the centre and not one side as the engineer who came out to repair the handle under warranty instructed. Not what I'd expect from Bosch.

By 01 May 2013

-

A

Same here. Replacing for the second time, using epoxy resin to glue the new one on as well as the screws. Hopefully this will last longer. Only a year since it was replaced

By 08 February 2013

-

A

As another correspondent says, this part is either fragile or a poor design. I would suggest the latter as the whole force of opening the door (against the resistance of the catch) pulls against the screws and their plastic threads. If, leaning down from a standing position, you then tend to put most effort on the top part of the handle, i.e. one screw only, this exacerbates the situation.

By - Westbury - 08 October 2012

A

I have model WTW84560GB/09 and the three lugs have snapped. Almost 2 years old, and I'm unsure if I'm under warranty as I bought it from Boots and their site says 2 years, but Bosch seems to say 1 year. I'm surprised that the handle is attached in this way as it seems very fragile. I have a washing machine with the same handle so am now being extra gentle with it. I'm going to try and get a spare handle and see if my husband can fit it. Loath to pay for anyone to fix it for me - especially if this is going to be a recurring problem. Husband says serves me right for buying expensive rubbish. But it has been a good dryer apart from that, and it was the only one which would fit under a fixed bench in the laundry. I get the door open by applying pressure with my fingertips and pulling.

By - Edinburgh - 13 April 2012

A

I do not think Bosch have upgraded the handle as this has the same part number as the one on their website. It is either fragile or a poor design. This is also my second handle. One naturally pulls at the top, and this eventually snaps off the top lug. The first time I had the problem, the whole handle came off with my washing inside! I contacted Bosch and was reluctantly sent a replacement, but they would not accept that it was a design fault. I did notice that the handle was the most popular Bosch tumble drier part purchased from this website.

By - London - 03 December 2011

A

The handle snapped off my tumble dryer yesterday, no undue force used, now have full load of washing stuck in machine including all work uniforms, Bosch tell me they can't get out for another week, mine is still under warranty, never had any problems like this with previous dryers. Again all three lugs sheared through.

By - southeast - 01 December 2011

Q How do I get the door open now the handle has broke 1 Answer

By - Bristol - 10 July 2014

A

This type of handle is fixed solidly to the door and does not open the door it pulls the door open. The door should simply pull open or prise using a flat blade.

By - 11 July 2014