Vax Floor to Floor Hard Floor Cleaning Solution - 1.42L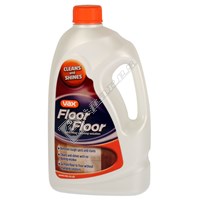 enlarge image
Fits the following models [?]
Click on your brand to see the model numbers this part fits.
Description
Go from floor to floor without changing solutions! Vax Floor to Floor Hard Floor Cleaning Solution removes tough spots and stains on hard floor surfaces. It cleans and shines without leaving a dulling residue.
Suitable for most Vax floor cleaning systems.
This is Vax spares reference: 1-9-127446-00
Other part numbers for this item: 1912426000, 1-9-124260-00, 1912530700, 1-9-125307-00, 1912744600, 1912845600, 1-9-128456-00
Best tile cleaner ever 12 April 2011

By Brian - Morecambe Lancashire

Could not source this locally checked your site and there it was and then it was here in no time at all, very impressed. product does what it says floor drys clean with no residue

Cleans floors 14 March 2011

By Expert's wife - Kent

I use this liquid in my Vax electric scrubber - normal floor cleaning stuff from the supermarkets makes too much bubbles for the machine to work properly. It produces a disconcerting amount of dirty water in the waste collector - makes me feel quite guilty that I don't keep my floors clean enough! But it is better than the normal mop and bucket - you don't spread the same dirty water all around the room (it scrubs and picks up as it goes). Downsides - it does NOT leave a shine on my Karndean tiles, as the bottle says (might be better on ceramics) and the Vax does guzzle it up quite quickly, which makes it fairly expensive to use. But e-spares do sell it cheaper than a lot of firms.

Does what is says. 01 March 2011

By Foxxy - Cheshire

Good product which cleans the floor well. Don't expect it to leave a shine because it doesn't, it cleans! I know I shouldn't comment on delivery but I was extremely impressed, within 48 hours on standard delivery...superb.