Dyson Zorb Universal Carpet Cleaning Powder - 750g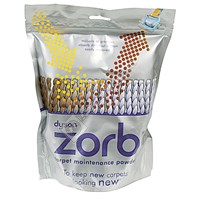 enlarge image
Will this part fit my appliance?
This product is compatible with:
Vacuum Cleaners
Description
Dyson Zorb Universal Cleaning Powder - 750g
If you've just got a brand new set of carpets and want to keep them looking that way, eSpares has just what you need. The Zorb cleaning powder from Dyson can be used with any vacuum cleaner. It is great for carpet maintenance and can be used to keep new carpets looking their best without wet cleaning. Simply sprinkle onto your carpets and let it rest for 30 minutes while it absorbs dirt and grime. Then, once the carpet is dry, Zorb vacuums up along with the dirt, without leaving any sticky residue behind!
Watch the video now...
Specification:
Ideal for Wool & Stain resistant carpets
No sticky residue
Dermatological formula
Contains 750g of powder
For use with any vacuum cleaner
The Dyson Zorb cleaning powder is great for carpet maintenance and can be used to keep new carpets looking new with none of the drawbacks of wet cleaning!
amazing stuff 03 August 2015

By E M - Falkirk

I have a problem on my carpets in every room . The problem is cheap door hinges were fitted . The movement of the doors wears them and black deposits fall on the carpets. I normally use car interior cleaner but this didn't work on it . Made it worse in fact . I tried the Zorb and after rubbing it in for a couple of minutes it disappeared like magic . I left it to dry and vacuumed it and the carpets like new. I don't know how it does it but it really works . Great stuff .

Does the job well 20 July 2015

By Retired Gent - Warrington

This product cleans the carpet and takes away pet smells that tend to linger, no matter what you do. An added advantage is the residue picked up by the vacuum cleaner makes the vac smell better as well.

Okay 19 July 2015

By Nick Y. - Essex

Why keep asking? Your very good at what you do. Okay, you want praise, so very very good at what you do!