How to Replace a Washing Machine Door Seal
Published
If your door gasket feels tacky or is mouldy beyond cleaning, it's a sign that it is perishing and needs replacing. Order your replacement door seal through the huge selection of washing machine spares at eSpares.co.uk.
Safety First! Disconnect your washing machine from the power supply and turn off water supply before performing this procedure.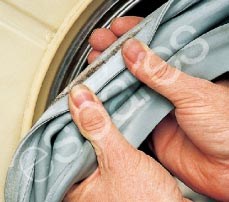 Follow these steps to replace your door seal:
Locate the outer clamp band securing the seal to the shell of the machine and examine it carefully. Many can be carefully prised off with a flat-bladed screwdriver, but some have a tensioning arrangement that has to be loosened.
After removing the outer clamp band, locate the inner one securing the seal to the drum and establish how this is secured. It may be necessary to loosen a clip, or you may be able to prise the band off with a flat-bladed screwdriver.
Once the clamp bands have been removed, use both hands to pull the seal away from the locating lips on the shell and drum.
Rubbing a smear of fabric conditioner into the groove that locates on the drum makes fitting the new seal easier.
If the clamp band has no tensioning adjustment, locate it on the bottom of the seal first, then push it on with both hands working opposite directions towards the top.
All washing machine spares featured in this article are available at eSpares.co.uk.
Information provided is a guide only. eSpares accepts no liability for any problems occurring whilst attempting any advice shown. If in any doubt about fixing your appliance, always contact a qualified repairer.