Replacing a Washing Machine Drive Belt Published 02/03/2007

Safety first, disconnect your washing machine from the power supply and turn off water supply before performing this procedure.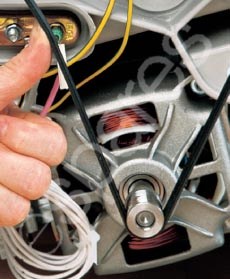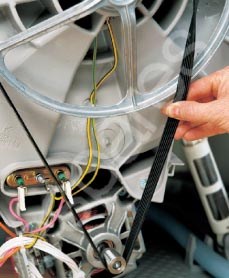 Test the tension of a drive belt by pressing it midway between the pulleys; it should have about 15mm of play. On some machines, one of the motor mounting bolts passes through a bracket with a slot in it, allowing the motor to be moved and belt tension adjusted. If a glance at the bolts shows no slots, your machine has an elasticated belt, which has to be replaced if it stretches.
To remove a belt, twist it so that its wearing surface faces out and starts to rotate it, making sure you don't pinch your fingers between belt and drum pulley; the belt will flip off the drum pulley.
Loop the new belt over the motor pulley, then stretch it onto the drum pulley by rotating it.
The drum pulley is slightly crowned to enable the belt to centre on it; slide the belt in or out on the motor pulley until it is correctly aligned vertically between the two pulleys.