Fix It Yourself Fridays 2012 Published 20/03/2012

Thanks for celebrating a month of Fix It Fridays with us this April.
We received over 2000 fantastic tales from fix-it fans, and the competition is now closed.
Congratulations to all of our Fix It Yourself Fridays winners! John took home the much coveted Apple iPad3 for his tale of an endangered coffee experience and some quick thinking – scroll down to check out all the winning stories.

Week four winners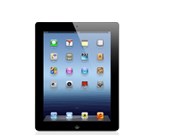 Apple
iPad 3
John's coffee experience faced clear and present danger with a coffee machine no longer 'full of beans.'
It started when we moved into a new house and it had a built-in coffee maker in the kitchen. Being a lover of coffee I excitedly rushed out and bought a bag of beans to feed into our gleaming chrome waker-upper. My wife was encouraged to sit down and relax whilst I created her a caffeine based masterpiece. I'd read and re-read the small instruction booklet that we had found in a nearby drawer and all was set. I filled the small plastic repository with the beans, topped up the water resevoir and, armed with a jug of milk waiting to be 'frothed', with trembling, excited fingers, I switched the beast on.

I was met with a beautiful display of green flashing lights dancing enticingly in front of my eyes. The machine oozed quality and promised to elevate my coffee drinking experience to a completely new level.

"Here we go.", I whispered as I pressed the 'heat on' button.

Initially, as the machine exploded, I was confused. A very small part of me hung desperately on to the hope that the large bang and smoke which now drifted out of the top of the machine was somehow part of the coffee making experience. It was only when the green power light faded slightly and then died altogether did the realisation hit me that my coffee maker was no longer 'full of beans'.

What to do?! My wife was waiting expectantly in the other room for a coffee experience that was now an impossibility. Several ideas raced through my mind ranging from verbally 'popping' and 'fizzing' and 'shhh-ing' the noises the coffee machine would have made, á la the old advert that used to frequent our TV screens, right through to escaping out of the back door, vaulting the fence and never looking back....

I settled on more of a measured approach to the problem. I got in touch with e-spares. Within 3 days I had in my hand a new heating element and a steely look of determination as the coffee machine and myself went toe-to-toe once more....

This time my wife didn't hang around for her brew. Preferring instead the "shout me if you get it working" approach.

Needless to say, I did get it working and the coffee was exquisite, a taste that is enhanced with the knowledge that I fixed it. Yes, me. Me who always got picked second-to-last whenever we had to play rugby at school and we were left to select our own players (only second to last because Smelly Simon was always last). Me who once had to drive to Bristol from Weston-Super-Mare but got on the M5 South instead of North and ended up in Taunton. Me who up until recently thought that Muammar Gaddafi's first name was Colonel.

Dyson DC31
Handheld Vacuum Cleaner
Scott discovered his fix-it potential thanks to a tip from his knight in shining armour, Graham.
There I am, with my 5 month old daughter, trying to do everything I can at home to make sure my wife can focus on our daughter while I'm at work and not have to worry about the cleaning, cooking and ironing.

So I have a brainwave and decide... "I know what, I'll do all the washing." Easy, right? Well, not for me...

It might be worth saying here that before I was married (7 years ago), I had no domestic ability. Seriously, I was less familiar with the chores of the home than a Martian was familiar with Earth because unfortunately I was one of those kids for whom the mum did absolutely everything (and bearing in mind, I'm the eldest of 5... I don't know how she did it.) Let me give you some insight: when I got married I thought that "cooking soup" meant warming up Heinz on a stove rather than in the microwave. Yes, it's embarrassingly true. Such was my ignorance.

Anyhoo - I conquered cooking in my first year of marriage (my wife wasn't so inclined to do everything for me and it really was a case of cook or don't eat...) and had conquered other household tasks year on year. I was becoming quite the domestic god.

The last and final job to overcome was that of doing the washing. There was something about clothes coming out soaking wet that kind of freaked me out - as if I could ruin them in just one short hour from being worn again. Thus I bravely decided in the face of impending danger to take upon me this fresh new responsibility of doing the clothes washing.

After having my wife explain it to me and walk me through the process a number of times (I'm a slow learner), I was finally ready to face this brave new world of washing. And face it I did. No washing task was too great or small for me, mastering all kinds of wash settings such as pre-wash, re-wash and de-wash. Sure, there was white pair of jeans that went pink once or twice, but on the whole the only word I can find to describe was simply this: glorious.

That is, until disaster struck.

Late one evening after the house had gone to bed I decided to nip to the kitchen for an evening washing session (I'd become rather addicted to this new wonder of mine) and put a load in. I threw in the powder, slammed the door shut, and stood content as I heard the churning and bubbling of success. But then it hit me: I had let some red object of sorts seep into a white wash… "It must've been hidden", I thought, as I realised what I had done and the impending doom of pink t-shirts, and thus in a moment of frantic, and rather manly heroism, I panicked, turned the washing machine off and laid my hand on the door ready to crank it open and rescue the wash from destruction…

And which point, the handle on the washing machine door did not share my manly enthusiasm, stayed in a locked position, and subsequently cracked and broke off as I tore it from its hinge, leaving the washing machine door stuck in place without anyway to prize it open.

'Oops.'

(Well, that wasn't quite the thought going through my head but you get the point.)

What had I done? "I've cost us £300 on a new washing machine," I thought, petrified of what my wife would say. I couldn't understand how I could do something so stupid, so juvenile, so downright silly. I had disgraced myself and all of mankind. I would not hear the end of this. I went into a depression, a questioning of all the skills I had learnt and whether it would've been better for me to have just stayed ignorant, stayed in the dark, rather than risk house and home to become a domestic god and DIY guru. I stayed in that slump for days...

But that was not the end.

After two days or so the light bulb in my brain finally mustered enough power to flickr on and cast light over the dark recesses of mind: "Call Graham", it whispered to me. (Or, it might've been my wife that said that. I can't remember.)

Yes… call Graham! My DIY hero, my knight in shining armour, my role model for all things manly and builderish.

Graham - the man who broke me into my car when I locked the key in, who broke me into my house when I locked in the key in, who broke me into the office when I locked my key in - call Graham! My dear friend and very able fixer-upper, Graham is a former police officer turned carpenter turned french polisher who can do just about anything you need around the house. He always knows what to do.

Thus I picked up the red phone in my house that is reserved for calls to Graham - similar to the Bat Phone - and explained the details of this particular struggle and dire emergency. Things will be fine, I thought.

And did he come? Did he fix the problem? Did he solve the riddle?

Ah - Graham did something far greater that day, that sacred day, that monumental, life changing day, when he did not give me a fish to feed myself for the day, but taught me how to fish for myself.

"espares.co.uk"

THIS was what he said to me.

And THAT is what I did.

Here is the very part I ordered: /part/washing-machines/door-parts/zanussi/p/1556/332/0/0/100566/white-laundry-door-handle.html

And on that page is the very video I watched as I took out my trusty screwdriver set, dismantled the door of my washing machine, rescued the trapped washing, and applied the much needed CPR to the door, bringing new life to this veteran machine.

I remember that day, watching the video over and over, ensuring I had each step right as I followed the man in the video, feeling as if at that moment we were brothers, DIY brothers, fix it yourself brothers, who knew no limits. Oh, what a day.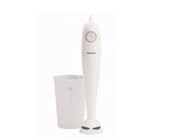 Kenwood
Hand Blender
Des is a big helpful beardie biker who made good use of a stranger's warm tights.
Back in the late 1980's I was heading home along the A2 in kent, when I noticed a car, with three senior citizens on board, broken down on the hard shoulder.
Being a helpful sort of guy, I pulled over (on my Harley) and approached the car, to see if I could help.
After the initial trepidation of being approached by a big beardie biker dressed head to toe in black leathers, they told me, that the temperature gauge had suddenly shot up, and they had pulled over quick, and turned off the engine.
Having popped the bonnet for the poor old driver (the other two occupants being his elderly wife, and even more elderly sister) I soon realised the fan belt had snapped. With no fan belt to hand for an old ford some creative thinking would be needed.
I can't quite describe the look on the two ladies faces when I asked the question "are either of you two ladies wearing stockings or tights ?" But having explained that a length of thick nylon hosiery might do the trick in creating a make-shift fan belt I was mightily impressed by the response of the old girls.
Clearly quite a pair of game old birds as they were, in a flash with one leg on the dash, and the other sticking out of the passenger window (wound down by now of course) and the other sister pulling for all her might, a pair of very thick, slightly warm and static filled tights were waved at the attendant husband, which he passed to me (still warm, and full of static) having tied both legs around the fan and water pump pully's and cut off the surplus with my pocket knife, the job was done.
I warned them to take it easy, and to keep an eye on the temperature gauge.
Having declined the fiver offered to me, I sent them on their way.
The repair I found out later got them all the way home to Blackburn.

Week three winners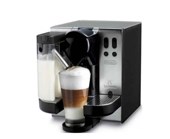 DeLonghi Lattissima
Nespresso Machine
Roger saved enough 'fix it yourself' money to buy his family a dinghy, according to his man maths.
A strange trio, an unreliable washing machine, an expensive fan oven and a sailing dinghy. So how are they linked?

I suppose the story begins in the spring of last year with the washing machine, never the most reliable and by now under executioners orders. Next time it broke down it was to be replaced. £300 on a new washing machine. Now I don't get much pleasure from a washing machine and even less pleasure from spending £300 of my hard earned cash on white goods so when the washer broke down again ( water still in the drum, door not opening until drained down by hand, foul job) it was time for a google. Under the guise of searching for prices of new washers I searched for possible causes of the breakdown and possible cures.
Enter espares.
By a combination of clear parts listings for different models and fix it videos and I figured out that I needed an new discharge pump and that even I could fit it.
Part cost including delivery under 20 quid, delivery in two days, got to be worth a try. What are the pros and cons. 20 quid against the cost of a new washer and the chance to become a domestic god. He who fixes the washing machine gets steak and chips for tea for a week. So the pump arrives, its straightforward to fit and half an hour latter the washing machine is working better than before.
Whilst eating my steak and chips that night ( mushrooms and onion rings by the side as I am now a domestic god) the man maths goes into action. With a little help from espares I have now saved the price of a washing machine. Therefore by the logic of man maths I could spend nearly the price of a washing machine on something I want and still have saved money.
New washing machine say £300
Less espares part say £20
Less token saving £80.
Equals £200 to spend on something nice and I've still saved the family £80.
Simples.

Now £200 wasn't quite enough for what I had in mind but it was a good start.

Enter the Fan Oven. De Dietrich, a good make but not the most well known so when it has broken in the past I had to take it out of its slot, carry it to the car, drive it 40 miles to the nearest stockist and pay through the nose to get it fixed before driving 40 miles back. I could of course get the repair chaps to collect it but god that was expensive.
In late summer the fan oven stopped working.
Take it out of the slot drive to repair shop pay 145 quid to get it repaired. Not with a domestic god in the house.
Enter espares agian.
Oven fan was spinning but no heat coming out. Heating element had failed. This had happened before hence £145 quid and drive.
Or under £25 for a new element from espares.
Fix it video showed me how. Order placed with espares and 2 days latter as I'm eating my steak and chips with a cake baking in the oven for dessert the man maths goes into action
Taking oven to repair man £ 145
Fuel 40 miles there , 40 mile back £15
Less cost of part from espares £25
Less saving of say £35

Equals £100 to spend on something nice and I've still saved the family £35.

So after 2 domestic repair incidents, by the logic of man maths and with the help of espares I have saved my family £115 and I have £300 to spend on something nice. (or by plain hard logic using espares has saved us over £400 in a few months but that's less fun)

Enter the dinghy.
I have two daughters Cora and Eve. They went on a sailing course with the Brownies in the summer and loved it.
Well by my reckoning the money saved by using espares was enough to buy them a topper dinghy. Not a new one by any means but I tell you what. Its a lot more fun than a Washing Machine.

So that's my Fix it Friday story.

I had a couple of appliances break down.
I repaired them with the help of espares
I saved a lot of money
I became a domestic god.
My daughters are getting a lot of fun from a new dinghy
We still saved money.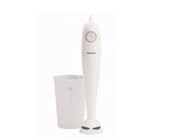 Kenwood
Hand Blender
Lisa found the recipe for the perfect FIY breakfast, including eggy bread and tea towels.
INGREDIENTS

1 x Neff Gas hob (4 ring)
2 x large frying pans
1 x spatula
8 x eggs
8 x slices of bread
12 x rashers of bacon
Salt & Pepper
Maple Syrup
1 x tea towel

METHOD

Break the eggs into a bowl and whisk, season with salt and pepper to taste. Turn on the two front gas burners and heat both large frying pans. Dip the bread in the egg mixture and place in hot frying pan. Cook bacon in the second frying pan. Once the bacon and eggy bread is cooked transfer to plates and serve to hungry teenage boys. Remove frying pans from hob and prepare to turn off gas burners. Realise VERY quickly that the plastic knobs is burning your finger and take tea towel to save skin from coming off. Once tea towel is firmly melted into the knob and it dawns on you that you are a plonker for putting both of the LARGE frying pans side by side at the front of the hob as there is obviously not enough room – point out to husband how easy it is for plastic too melt when in contact with large heated frying pan. Throw tea towel away. Wait for plastic knobs to cool before removing. Switch on laptop. Search Google search for best and fastest supplier of spare hob parts. Order 4 x white Neff gas hob knobs from E-Spares, the online parts store, and await delivery.

HINTS AND TIPS

If your spatula has also melted make sure you remove any evidence of this from food before serving.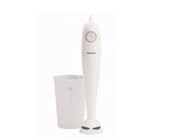 Kenwood
Hand Blender
Hayley is a woman of substance who solved her vacuum's suction problem.
In the current economic downturn I'm sure everyone is out for a bargain and ways to earn extra dosh! My partner has become a bit of a rag 'an' bone man in his spare time even though both association and admitting this is somewhat dismaying for a 'woman of substance' ..... Yeah right you should have seen me fly when he said he had a dyson animal that someone had chucked out in the back of his van! "Don't dump it" I yelled, "It might work, let me have a look". "I wouldn't have THROWN it in the van if I had realised" he said. Exasperated and a little excited as a wanna be Miss-fix-it, I grabbed the vacuum from him (mine was much cheaper, no longer sucky, and making a terrible noise, a copy type version of the 'golden' dyson) I set to work, taking bits apart, frantically cleaning and making a terrible mess! When I happened upon the first filter that looked like crumbled flower oasis, I decided I needed help. Rushing for my PC I stumbled upon an ESpares YouTube video..."Here we go" I thought and to my delight witnessed how to change both the lifetime and HEPA post motor filters. I galloped for my debit card and before you could blink two shiny filters were on their way!Every morning I waited eagerly for the postman and before too long, 'yippee' he arrived with my filters, revising the video, I quickly set to work and before my partner could utter his consternation at my madness, I was zipping around the house with a beautifully sucky dyson! However disappointment soon set in when I realised that although the carpets were gleaming and dust and animal hair free, the hose didn't even have the strength of someone sucking on a straw! "No problem" I thought, "I knew where to find the answer!" It soon became apparent that my new beloved dust destroyer was missing its 'U bend' and effectively dumping the dust back on to the floor from its hose!
Many a woman of not so much fortitude might have given up at this stage, but not me, dashing back to my debit card and back to ESpares with a quick glance at a new online video, I ordered the part and it came in one flick of a badger's tail! Suffice to say I now have a fabulous new addition to my under stairs cupboard, in 'like new' working order, beautifully vacuumed carpets and stairs all for the price of a take away!

Week two winners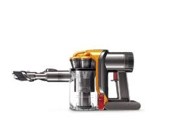 Dyson DC30
Handheld Vacuum Cleaner
Albert narrowly avoided domestic disaster using a handy wotsit. Success.
Domestic disaster! End of the day and time to put the last few items of crockery into the dishwasher. Mugs squeezed into the top tray, teaspoons cuddle up to forks, casserole dish balanced to perfection on plenty of knives at hand. Try to maintain firm grip on greasy handle of carving knife whilst whittling away at plastic film that appears determined never to part company with the detergent within. Finally manage to hack through covering without losing too much vital fluid. Open flap in dishwasher door, tuck in tablet and its fate is sealed. Muwahahah! Shut the dishwasher door...door won't shut. Silly me. Clumsy boy. Try again. Door still won't shut. Bewilderment. Wosgoingon? Sit on kitchen floor and eyeball closing mechanism. Work out that metal thingy at top edge of dishwasher looks like it should engage the catch wotsit on the top edge of the door. Have an Einstein moment. Should engage, yes, but doesn't. Ought to, but appears more than reluctant. Come to technical type man decision that the catch wotsit is broken. Shock horror. Implications.....(a)washing up dirty dishes by hand...gasp...(b)calling out domestic engineer who will charge me loads and smugly too...double gasp. Do rather good Mr Bean impression ( well I thought so) running in tight circles between dishwasher and phone. What to do, what to do? Inspiration! Internet. Type with trembling fingers "broken catch thingy on dishwasher". No good. Must calm down. Think man, think. Inspiration. Type in dishwasher details and search for door catch. Find place called Espares. Think have found possible Spanish holiday resort by mistake. Ethpareth? Costa Blanca? In desperate times imagination runs riot. Mentally try a northern accent. Eee, spares. That sounds reassuring. Log onto site. Find I've arrived at spare-part heaven! And suddenly, there it is...my catch wotsit...the very one. And it costs....wow....not even a quarter of just the call out charge from the smug man. Carefully add wotsit to on-line shopping basket and reach for credit card. It doesn't get much better than this. Hang on, yes it does! There's even a little video showing how to take the old one off and put the new one on! How good is that? Run, metaphorically, to checkout and the wotsit is mine, all mine!!! Celebrate by asking wife to sort the dirty dishes. Wife points out disadvantages of that request. Reconsider in light of information received and do washing up. By hand. Snivel.

Amazing. Part arrives next day. Undo wrapping and there's my wotsit. Grab screwdriver and laptop. Play Espares video again on how to change wotsit. Wrong screwdriver. Find the right one. Stick tongue out of corner of mouth to look business like. Apply screwdriver to washing machine door. Hum a happy hum. Five minutes later, attempt to close dishwasher door. Clunk click...spot on. Well done my son! Stride manfully across room and strut peacock-like in front of wife. Casually flip screwdriver in air. Frantically try to intercept screwdriver before parabolic trajectory takes it into wife's ear. Succeed. Speak. "Well, that's sorted then". "That's good", comes the response. "Now you can put the casserole back in the dishwasher - it needs a proper clean".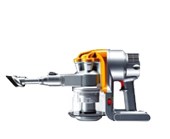 Dyson DC16
Handheld Vacuum Cleaner
Susan revived her aunt's aging Cordon Bleu cooker for many soufflés to come.
Having dinner with my gentle 77 year old aunt, I was perturbed that she kept slamming the gas cooker door shut.

She explained that the door catches on her Carron Cordon Bleu double cooker had long since stopped holding properly, and that several workmen had visited, shaken their heads, & said the parts were no longer available. She worried every time she cooked, as the doors kept springing open and affecting her cooking.

This once state-of-the-art cooker is her pride and joy: so back home, I searched the internet, found suggestions of a possible different brand matching part, then placed my first order with E-Spares.

Next weekend, this girl packed her handbag with an assortment of screwdrivers, spanners etc. and returned to aunt's London flat.

Okay, it took me some while to dismantle the cooker doors, replace the catches and re-assemble... but I did it, and I've never seen my aunt happier as she kept opening and clicking the doors shut!

Did get asked on the Tube that night, What have you got in there? as my handbag knocked into a fellow passenger......

The cooker's still fine now, 18 months later, souffles and all! At least Try and Fix it Yourself, I say........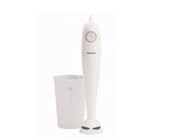 Kenwood
Hand Blender
Joan got her 1p bargain fridge up and running with a spare and some elbow grease.
A couple of years ago my fridge stopped working, it had been giving problems for some time and I simply didn't have the resources to purchase another new one. It needed re-gassing so ended up being used as a cupboard, whilst I found a replacement.
One day I was looking on e bay and saw a nice large Hotpoint fridge for a low starting price of 1p. I put a bid on, knowing that there was a problem with the fridge, but thinking that as it was most likely to be the thermostat, with the help of e spares, I should be able to fix it. I actually got the fridge for 1p. as no-one else had bid. Got the fridge home and put it on a timer to see if it worked well, which it did. Then looked for the part I needed on e-spares. It cost about £18 if memory serves me correctly, and when it arrived, I replaced the old thermostat with the new one, and hey presto one extremely good, cheap fridge, which in the shops new would have cost a few hundred pounds. I am so pleased with the result, and always recommend friends to try e spares to see if they can fix a problem themselves rather than buying new.

Prior to this, I had a Hotpoint washing machine that leaked around the door seal. This was the first time I had used e spares to order a part, which arrived in a couple of days. I looked at the part, looked at the machine and thought - what on earth am I going to do now! So I checked out the e spares site, and there it was telling me how to go about replacing the door seal. I followed the instructions and without any problems whatsoever, managed to get the old seal off and the new one fitted in a very short time. I am still using the same machine today, so am really pleased with the result.

Week one winners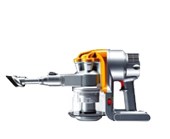 Dyson DC16
Handheld Vacuum Cleaner
David was able to help Maud and Len out with their oven door that "wouldn't budge."
I remember turning up at a customer's house to attend to an oven fault. The house was a tied cottage on a farm and the elderly couple, 60 something's, who lived there had the ruddy complexions of a hard bitten life eking a living from the soil. I drove my van into the muck and plother yard surrounding the quaint cottage. Stepping out I picked up a few hand tools and WD40, the complaint "Belling cooker - customer can't open door" on my job sheet I knew the complaint well and did not expect too much of a challenge. Picking my way between the dry cow pats I could hear the old man's voice coming through the open door from 20 feet.

"Is that him Maud, is that the man come to do the cooker"
"Yes Len, now do your buttons up, can't have the young man seeing you like that" she replies.
The old man was sitting at a bare board table the lady of the house was busying at the sink.
Crossing the threshold of the door I am assailed with all the smells of long lived lives revolving around that sturdy kitchen table. Then the tirade begins.
"Ooh! my stars thank gawd you're here I haven't been able to cook for the last week" Maud exclaims.
Len chips in "good heavens boy she couldn't open the door last weekend"
"Ooh! I had such a job I struggled and struggled to open the oven door but it just wouldn't budge, even you struggled didn't you Len" says Maud. "that's right" says Len, "I got hold of the door handle and pulled and pulled and pulled, could I shift it! Solid it was solid"

I knew this complaint well, this was one of the old fashioned Belling free standing cookers. The door has a pinch roller catch which latched onto a spigot on the frame to keep it closed often the steel rollers would just seize up on the spigot and the oven door become almost impossible to open and close.

Maud continues in her breast beating, "lord I had the handle and before I knew it I had dragged the cooker way across the kitchen and still the door wouldn't budge"
"Yes mate, wouldn't budge she dragged the cooker right across here", Len pipes in pointing to a far corner of the kitchen "Right out here, bloody thing still stayed jammed solid"
I'd heard enough, I got a firm hold of the oven door pulled it with a firm jerking movement took the WD40 in my other hand and squirted two short bursts shwit shwit then I closed the door gently with one finger and pulled it open again with just the one finger. I clicked the door open and shut several times click, click, click, click - job done.
I turn round Maud is standing aghast as if she has seen a ghost, her pink face half hidden behind her pudgy fingers. Len is sitting gaping at the oven door the top set of his false teeth falling onto the lower the hairs in his nose curling on to his sculpted weather beaten features.
He regains his composure straightening his teeth and sitting bolt upright he looks me up and down, "bloody hell boy that was quick", he pauses "bloody hell! . . . Now if that was the car I'd have done that straight away!"

"No problem Governor" says I, "sign here, I'll just charge a call out fee shall I".

Dyson DC31
Handheld Vacuum Cleaner
Royston saved his delicious steak and kidney pie from disaster with a self-respecting lawn rake.
This rake's story goes back over twenty years to a time when a strong verticality was an essential part of any self respecting rake.

In keeping with the gender roles of that time my wife was out in the garden, painting the summerhouse with a rather obnoxious smelling creosote and in true role reversal I was in the kitchen preparing an evening dinner for our guests with all those mouth-watering aromas appropriate for such an occasion.

With the steak and kidney pie suitably prepared with herbs, merlot jus and the lightest of pastry top and with the cooker up to temperature I opened its door, placed the dish on the oven shelf and returned to work on the vegetables.

Fifteen minutes later I checked the oven and to my horror found the temperature had fallen considerably. The oven hadn't come on again when I had closed the door. Panic reared its head; the pie could be ruined. I bet the summer house looks good I said to myself through gritted teeth.

With a bit of fiddling I found that the door switch would only bring the oven on again if I lifted the door upwards. I can't stand here holding it up while the pie cooks, I thought, the rest of the meal wouldn't be ready on time. I need something to wedge the door up. The house broom was too short so I went out to the garden shed.

"What do you want in there? came a call from the summerhouse.
"I want something long and strong," I replied.
"So do I darling,---- I can't reach the top of the gable boarding!"
"This will do,"" I said, and taking the rake I went back to the cooker and wedged it, at a steep angle, under the door handle, taking care not to allow the prongs of the rake to stick into and damage the floor.

The "fix- it yourself" repair worked perfectly and the dinner was a success even if I say so. The guests all thought the summerhouse looked lovely despite the hostess smelling of creosote!

I changed the cooker soon afterwards, but kept the wife.

A photograph is being separately sent that depicts this engineering solution as applied by myself, a retired chartered engineer and, as the outdated oven pictured shows, this isn't an April Fools joke.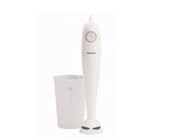 Kenwood
Hand Blender
David experienced peril on the sea but saved the day for himself and shipmate Jerry with an empty beer can.
Sailing a 36ft yacht across the channel from the Thames to Boulogne Jerry and I were expecting a fairly uneventful passage. The weather forecast was for moderate winds around Force 4/5 and sea state choppy. The boat had previously crossed the Atlantic and this trip would plain sailing for it .

We set off from the Thames estuary on a Friday afternoon so we could have a long weekend sampling the French food and wine. Turning south past the Goodwin Sands the wind was increasing and the sea was a bit more than "choppy". But as the forecast still was same so we decided to carry on according to plan. By the time we were in the middle of the English Channel the wind was gusting between Force 8 and 9 and the seas were huge. Not a major problem as both of us were fairly experienced sailors and had lots of confidence in the boat as well.

Just as we spotted the French coast through the driving rain we had to start the engine as the wind was not allowing us to make headway toward the port of Boulogne. The engine started first time as usual and we started to make slow progress to the harbour entrance. Just as we were congratulating ourselves on how well we had done, a Cross Channel Ferry came past us and the waves were so high we could see almost all of the underside of the hull. This was getting really serious. Keeping a close eye on the waves and wind we then noticed smoke pouring out of the engine compartment accompanied with a lot of noise. Quickly shutting the engine down I opened up the hatch and met a wall of thick black smoke. Without the engine we were being pushed toward the cliffs on the French coastline. It wasn't immediately obvious what was wrong and I started the engine up again. It was only then I could see the exhaust had broken close to the manifold and was hanging on by a tiny amount of metal.

Running it like that was not a reasonable option as the oily black smoke was becoming a fire hazard. We needed to get it running PDQ as becoming wrecked on the rocks was fast becoming a reality. Looking at the problem I quickly realised it needed welding or supporting across the break. Strangely enough there wasn't a welding unit on board so what on earth could I use to repair it?

Jerry was steering and battling the storm, a can of Heineken Lager in his hand as this was thirsty work. Calling urgently to him I told him to empty the can immediately and give it to me. He looked as me as if I was loosing the plot. However he valiantly drank the contents and tossed me the can. Then I got out my trusty Swiss Army Knife out and removed the top and bottom from the can and cut it in half lengthways. Wrapping the thin metal around the broken exhaust pipe I secured it with 2 jubilee clips. Calling up to Jerry on deck to start it up I crossed my fingers. Eureka......it ran perfectly without any smoke escaping!

The boat made it into port safely and had a much needed bottle of local wine. We spent the next few days enjoying time away from work, but as it was a bank holiday weekend nowhere was open to get the exhaust welded. Because both of us needed to get back for family and work I inspected my repair and it looked sound. We had a completely uneventful return passage with the beer can still doing a grand job and then we got the exhaust welded up a few days later in England.

Before leaving I bought a few packs of Heineken and extra jubilee clips" - just in case. Real shame they didn't have to be opened on return trip!!!

The motto here is "Heineken repairs the parts other beers cannot"........in this case their can certainly did exactly this.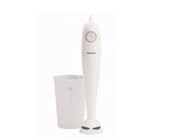 Kenwood
Hand Blender
Greg was serving in the RAF when he pulled a fast one with his vacuum cleaner that wouldn't start.
Many years ago (1974) whilst serving in the Royal Air Force in Germany, when money was really tight, we owned an old Hotpoint cylinder vacuum cleaner which was on its last legs. I was on duty as fire piquet in the Guardroom on camp and noticed that the Station Warrant Officers service supplied vacuum cleaner was also a Hotpoint, albeit a different model. I quickly went home to my married quarter and picked up our vacuum cleaner and tool bag.

When I got back I quickly removed the worn out motor from my vacuum and after fitting all the various switches etc. from the Station Warrant Officers vac fitted it into mine. Mine now ran as sweet as a bird.

I put the Station Warrant Officers vac back together and checked it ran, it did but sounded pretty rough.

In the morning the guardroom cleaner reported to the Warrant Officer that the vac wasn't working very well. The SWO was very puzzled as it had only just been returned from repair in station workshops, muttering something about" no quality in modern machinery".

I said nothing.

As a footnote our vac lasted for many years after I left the air force eventually expiring in 2005.

Hope you enjoy the story.