How to Clean Your Grass Trimmer
Published
Your strimmer is subject to a lot of dirt and debris with every use. Keeping your trimmer clean will help keep it working for longer. Here is how to clean your trimmer: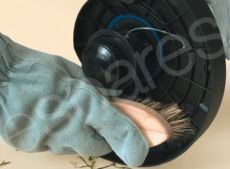 Unplug the trimmer from the mains.
Wipe the casing down with a slightly damp cloth, avoiding the switch and motor areas.
Use a soft brush or vacuum to clear blockages around the ventilation slots. It's important that the motor stay properly ventilated to avoid overheating.
Use a stiff brush to remove debris from around the line feed area and under the guard plate.
If any part of your trimmer is broken or you require more spool and line please visit the strimmer spares selection at eSpares.co.uk.
Information provided is a guide only. eSpares accepts no liability for any problems occurring whilst attempting any advice shown. If in any doubt about fixing your appliance, always contact a qualified repairer.
View all Trimmer Spare Parts Now »